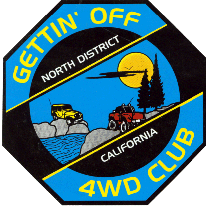 To Our Guests, We are a diverse, friendly, family oriented club. Our membership is active and growing. Our club is open to all 4WD vehicles. Currently, we are a mix of Jeep CJ's, YJ's, TJ's, and Toyota 4Runners and Pickups. In the past, members' rigs have included Jeep XJ's, Toyota Land Cruisers, full size rigs, and even a Hummer. Each month we have a club meeting and often a scheduled club run. We also have informal runs and participate in a variety of 4WD events. We run trails from the mild to the wild. In the winter months we enjoy snow runs in the mountains, desert runs in Death Valley and the Panamint area, and an occasional trip to Hollister Hills. In the summer months we run trails like the Rubicon, Dusy/Ershim, Fordyce, Swamp Lake, and several trails off of Hwy 4 such as Slick Rock and Deer Valley. Also, we have an annual family BBQ/Camping Trip/Run.
More than half of the members' vehicles are very well set up and ready for the most hard core of trails. You will safely be in the hands of many very experienced members who can handle just about any situation which may arise on the trail. Many stock vehicles have got their start with us so come and check us out.
Joining a club is a great way to learn how to 4-wheel and find out where to go. You'll learn safety tips and see some of the most incredible wilderness this Earth has to offer that most people will never see in their lifetime. You'll meet a fun group of people with similar interests. Whether you are an experienced wheeler or a beginner, we have a variety of activities to make your experiences enjoyable. I invite you to attend one of our club meetings or join us on a run.  You can send an email to terryj4x4@comcast.net.
See you on the trail.
Regards,
Terry Johnson
Gettin' Off 4X4 Club